Kara Woods Home Stager Press
Apartment Therapy Article
2018 Academy of Home Staging Class Reunion
The Luxury Space – Private Brokerage October Newsletter
2016 Consumers Guide To Real Estate Staging
Consumers Guide To Real Estate Staging Winners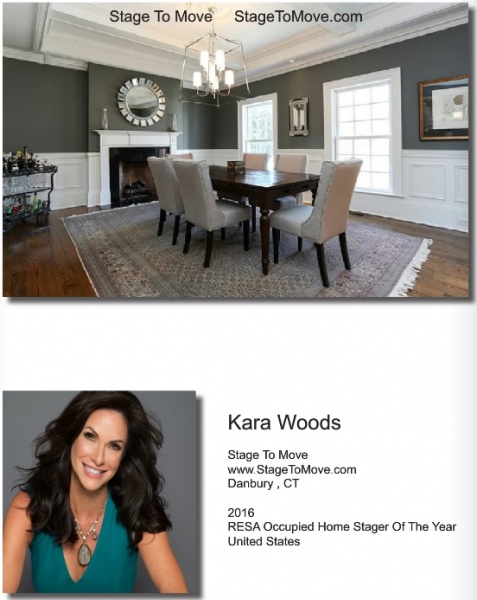 Kara has recently been featured by the Real Estate Staging Association in the 2016 Consumers Guide To Real Estate Staging Winners Issue. Click HERE to see Kara in the issue.
terrysfabrics – Designer Insights with Kara Woods
Kara Woods in Money magazine.
Click each page to view:
Is Staging Really Successful? – A Houlihan Lawrence Blog Post

0 CommentsBy Maryellen Walsh on March 4th, 2013
Tags: home staging, Stage to Move, staging
Categories: Agents and Offices, Ask the experts, Selling, Westchester
Many real estate professionals and first-time sellers always seem to wonder whether or not staging is worth the time or financial commitment when preparing a home for sale. We decided to consult expert Kara Woods, staging professional and founder of Stage to Move, to find out: Is Staging Really Successful?
Kara says shows us the stats – they tell the story:
Nationwide, staged homes on average sell 78 percent quicker.
According to Houlihan Lawrence's 4Q Market report for 2012, a home for sale in Bedford averaged 170 days on the market.
170 days x .078 (speed at which a staged home sells) = 38 days on the market.
90 percent of Stage to Move's homes sell in 32 days or less.
We then decided to ask how staging helps sells a home:
Staged homes have the detail repair work done in advance, which leaves the owner and broker in control at negotiation time.
Staged homes take better pictures, and better pictures means more traffic at open houses AND online.
A well-staged home creates a lifestyle, something that's tangible to sellers. Lifestyle sells.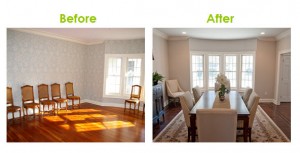 Staging prices can vary. They can range from as little as $100 per hour for a consultation to several thousand dollars if furniture rental is necessary.
Sellers can't control the location, interest rates or housing market fluctuations. Sellers can control how their home looks and prepare it to appeal to the broadest market. After dozens of stagings, we are "drinking the Kool-Aid"!
Kara Woods is a certified stager with 2 accreditations (CSP, AHS). She is also a certified staging instructor. For more information, contact Kara at her website at www.stagetomove.com.
Kara Woods in three Massachusetts newspapers: Cape Ann Beacon, Salem Gazette, and Marblehead Reporter.
The art of real estate staging
by Barbara Forster
Don ("The Godfather") Corleone's philosophy is a familiar mantra among real estate home stagers. "Staging is for the public, while decorating is personal, " says Betsy Konaxis of BK Classic Collections/Home Stagers in Beverly.
Successful home goods and furniture stores like Pottery Barn and Crate and Barrel exemplify the "art" of staging. "They appeal to the masses and they are doing it well," says Konaxis.
Paula Gaull of New Leaf Redesign in Marblehead agrees. "Staging is preparing a house for the market so that it sells faster," she says. "Once a house is on the market, sellers should think of it as a product."
"You're not selling your home, you're selling your house," adds Konaxis.
Admittedly, thinking of the family home as a commodity is difficult, but when sellers opt in and embrace the concept, the results are usually positive, i.e., the house sells faster. According to a national trade association, the Real Estate Staging Association, in 2009, the national average days on market for homes that were not staged was 175, as compared to 36 days for staged homes.
Sometimes the results are even better. Two weeks after Gaull staged a house that had been on the market for two years, the property was under agreement.
Faster sales are one reason the concept is gaining a following here on the North Shore. The popularity of various programs on HGTV is another reason, but a tougher housing market is also having an effect. Sellers and their realtors are looking for ways to position an individual property ahead of the competition.
The Internet is another driving force. Real estate statistics indicate that almost 80 percent of buyers start searching for homes online. "You want them to see good pictures from the get-go and not have them click on by," says Gaull.
Although staging has become more commonplace in this area in the last six to seven years, the Northeast is, however, playing catch-up with other parts of the country. On the West Coast as well as in Denver and Atlanta, for example, stagers are called in before the ink dries on the listing contract.
"It's an advanced form of marketing that makes your home stand out," says Kara Woods, regional vice president, Northeast Region, RESA. "If we can create an emotional reaction, then a sale will follow. If you love something, you will find a way to get it."
OK, so staging is…
For Woods, decorating is making a house reflect the personality of the owners, while staging is about taking the personality out of a house while keeping it warm and inviting. "It's like walking into a fine hotel. It's not personal, but you feel that you want to go in and stay a while," she says.
"You want people (buyers) to imagine themselves living in the house rather than picturing who lives there now," adds Gaull, "so that means sellers need to think like dwellers."
Konaxis points out that staging also helps buyers focus on particular elements in the house. "Staging is all about directing the 'eye' to the value in a home — a fireplace, custom woodwork, etc.," she says.
Staging can also direct attention away from flaws in a room or throughout the house. After all, not every house is perfect.
The process is relatively simple. After assessing the house, and that includes addressing the issue of curb appeal — buyers need to want to come through the front door, de-cluttering and depersonalizing is step number one. Removing personal photographs, along with collectibles, and painting rooms in neutral colors is fairly common, as is simply rearranging furniture to improve traffic flow.
Sometimes stagers bring in furniture and accessories, but repurposing items already in the house is an option. Another cost-effective approach is to hire a stager to do an assessment and a written report. Homeowners invest a little sweat equity and cut costs a bit.
And costs vary from approximately $300 to $3,000 or $5,000. Charges can be monthly, especially when furniture is rented/leased or on project basis.
"Even if a seller spends a couple thousand dollars, that's generally a lot less than the first price drop," says Gaull.