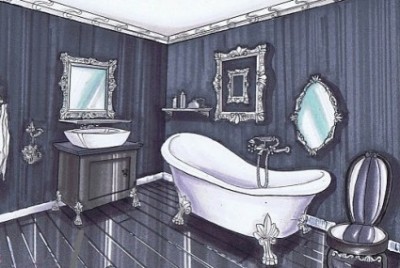 Is your master bathroom a little on the small side compared to the rest of your home? Are you worried that the size of one or more of your bathrooms might turn off potential buyers from purchasing an otherwise beautiful and luxurious home? If you answered yes to either of these questions, don't worry—we have some tried-and-true solutions for you that will have potential buyers swooning in no time.
First, maximize your bathroom's potential by making it look larger than it is. Use bright light fixtures to visually increase the size of the room. Lighting is particularly important—nothing is worse than a dark, cramped bathroom! If needed, switch to a high-wattage bulb to provide additional light.
Second, keep it simple. Don't over-decorate and clutter a crowded area, and keep bathroom furniture small. Consider moving larger bathroom furniture such as storage shelves to corners to utilize all potential space.
Third, consider painting ideas or wall tiles to visually raise the ceiling and widen the walls. Vertical lines and decoration patterns (think stripes and zigzags) can do the trick for adding height, as can horizontal tile patterns for width.
Fourth, clean, clean, clean! Make sure every surface is gleaming. Cleanliness is always attractive, and remember, it's the little things that can make or break a sale!