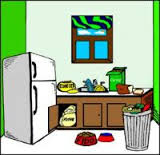 The verdict is in—your kitchen can make or break a sale. So what can you do to spruce up your kitchen and make it more appealing to buyers?
First and foremost, eliminate the clutter. Get rid of all non-essential small appliances and kitchenware—toasters, plastic containers, magnets, papers, etc.—and clear out excess utensils and spices. This small tip will make your kitchen feel larger and cleaner right away.
Second, clean your major appliances. Buyers know that they will be using those same appliances should they decide to buy, and you don't want them to be turned off by a leaking fridge or a dirty, grease-stained oven. Make sure to keep things clean as your house is on the market—in other words, no dishes in the sink. Consider having your kitchen professionally cleaned.
Third, highlight your kitchen's best features. Do you have a brand-new fridge? Make it sparkle—the gleaming appliance will attract potential buyers right away. Do you love your ornate kitchen floor tile? Make sure you are not covering it up with too much clutter or distractions—keep it simple. Are you blessed with plentiful cabinet and shelf space? Keep it organized and neat so that buyers can visualize its full potential.
Fourth, consider making some smaller adjustments to your kitchen's not-so-great features. Paint your cabinets a neutral color, like varying shades of white. As one realtor notes, alternating among shades such as creamy beige and pale blue-gray add depth and visual appeal. Replace out-of-date countertops and appliances.
And lastly, add decorative items to finish the upscale look you want. Add a teapot to decorate the oven, set out fresh fruit or flowers, hang up bright new tea towels—anything that will make your kitchen look warm, fresh, and inviting.
Most importantly, don't hesitate to spend money on your kitchen. It's an investment, not an expense, and statistics prove it can pay off to the tune of thousands of dollars in the end.