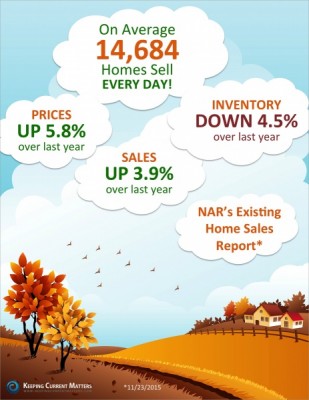 Are you reaping the financial benefits of an improved economy? Are you thinking of selling your home and using the profits to upgrade to a nicer space? You couldn't have picked a better time to do so.
First, the value of your home is steadily increasing. In 2015, the value of all homes across the U.S. increased $1.1 trillion, growing 4.1 percent over the past year alone. In the latest Zillow Home Price Expectations Survey, more than 100 economic and housing experts pinned home value growth for 2016 at about 3.5 percent.
Second, the supply of listings will rise with each passing month during the spring. According to Keeping Current Matters, a resource website for realtors, "The #1 reason to not wait until spring…The supply of listings increases substantially after the new year (including new construction) which lowers the demand for your house." Getting your home on the market right now can give you an edge over spring competitors.
Of course, don't forget an essential ingredient: home staging. Staging can relieve the stress of selling your home; stagers maximize your home's appeal to buyers to help you sell your home quickly and for the best price possible. Choose Stage to Move to make selling your home as easy as possible this year. New year, new home, new you!
Taylor Henley is an employee of Stage to Move. She collaborates with owner and home staging expert Kara Woods to produce blog posts that reflect the expertise and innovative design strategies of Stage to Move.