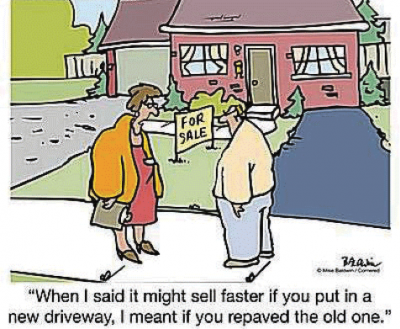 Even the most experienced home sellers sometimes forget to do these basic home staging improvements. Check out our list of a few of the most commonly overlooked staging tips:
-Updating the kitchen. The kitchen is the most important room in the house, and neglecting to make some necessary changes can really hinder your selling efforts. Your updates do not have to cost you thousands, however; one stager recommends staining dated cabinets if you don't want to spend the money to replace them.
-Keeping bedrooms gender neutral. Children's bedrooms are generally not staged, so it is particularly important to make sure that they appeal to all genders. Don't assume that buyers can make the mental shift from your teenage boy's room to their future baby girl's room.
-Removing unnecessary appliances and other clutter. De-cluttering is the bread and butter of home staging, but did you know that appliances (as well as basic decorative accessories) could be clutter? Too many appliances (i.e. toasters, coffeemakers, etc.) seem like clutter to buyers; opt for a simple bowl of fresh seasonal fruits on your counter instead.
-Making your bathrooms shine. Your bathrooms are your second most important rooms in the house (after your kitchen), so they should be absolutely pristine. Upgrade your cabinets and sink if needed, and paint that bathroom tile that went out of style in the 80s. Consider installing extra closets and drawers if your bathroom is short on storage space. You'll be glad you did when buyers love your bathrooms!
-Painting and polishing your front doors and shutters. First impressions are critical in the home selling business. Don't neglect the outside in favor of the inside, or your buyers will walk in to your home with a bad impression—one that even the best indoor décor might not be able to change.
Taylor Henley is an employee of Stage to Move. She collaborates with owner and home staging expert Kara Woods to produce blog posts that reflect the expertise and innovative design strategies of Stage to Move.