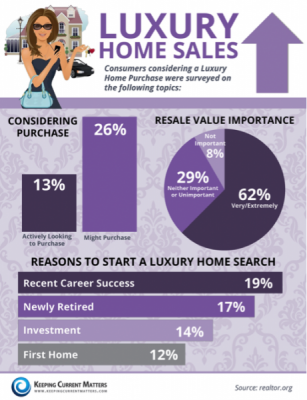 We know that the housing market has been on the rise lately. According to the Wall Street Journal, "Prices of existing homes sold in the U.S. vaulted to a record high in June, topping the mark set in 2006, as sales increased at their strongest pace in more than eight years." But what about the luxury market? This niche industry doesn't always follow general housing trends, so it's important to keep up to date on the latest news.
Don't worry—we did your research for you. And it turns out that sales of luxury homes have been hitting record highs in recent years. Domestic purchasers, bolstered by decreasing unemployment rates and growing incomes as the economy recovers, are increasingly attracted to real estate, according to top real estate agents: "Buying real estate has grown more attractive, these young buyers say, compared with the stock market, which appears riskier to a generation that entered the workforce during a market correction."
Moreover, international buyers continue to augment the luxury home market. The United States is relatively inexpensive (hosting only one of the world's top ten most expensive cities in the world for real estate, according to Forbes), so it makes sense that luxury buyers would seek to get more bang for their buck here in the United States.
Lastly, and perhaps most importantly: 23% of luxury homebuyers live in the Northeast. This is great news for Westchester and Fairfield County sellers, since it means that a market already exists in the area. Stage to Move can help you market your home to these buyers when you are ready to sell.